21 Travel Rule
The guaranteed and privacy-respecting solution to the implementation of the FATF Travel Rule.
Easily integrate your current workflow to comply with all crypto asset transactions with self-hosted wallets and VASPs.
Request a Demo
Why Choose 21 Travel Rule?
Future-Proof
Accurately identify and transact with any self-hosted wallet and with compliant VASPs using open standards.
Privacy-Respecting
Run our software on your servers and keep data within your company. We never have access to your data.
Guaranteed
Comply with any scenario as addresses are identified with 100% certainty, not based on assumptions of blockchain analytics.
Core Features
All our product's functionalities are available through an easy-to-use web interface and an API. Below you will find examples of both.
Review All Transactions in One Place
Get an overview of all information required to fulfil the FATF Travel Rule of every virtual asset transaction. Review the transfer details, including on-chain data, export a single or all transactions as a CSV file.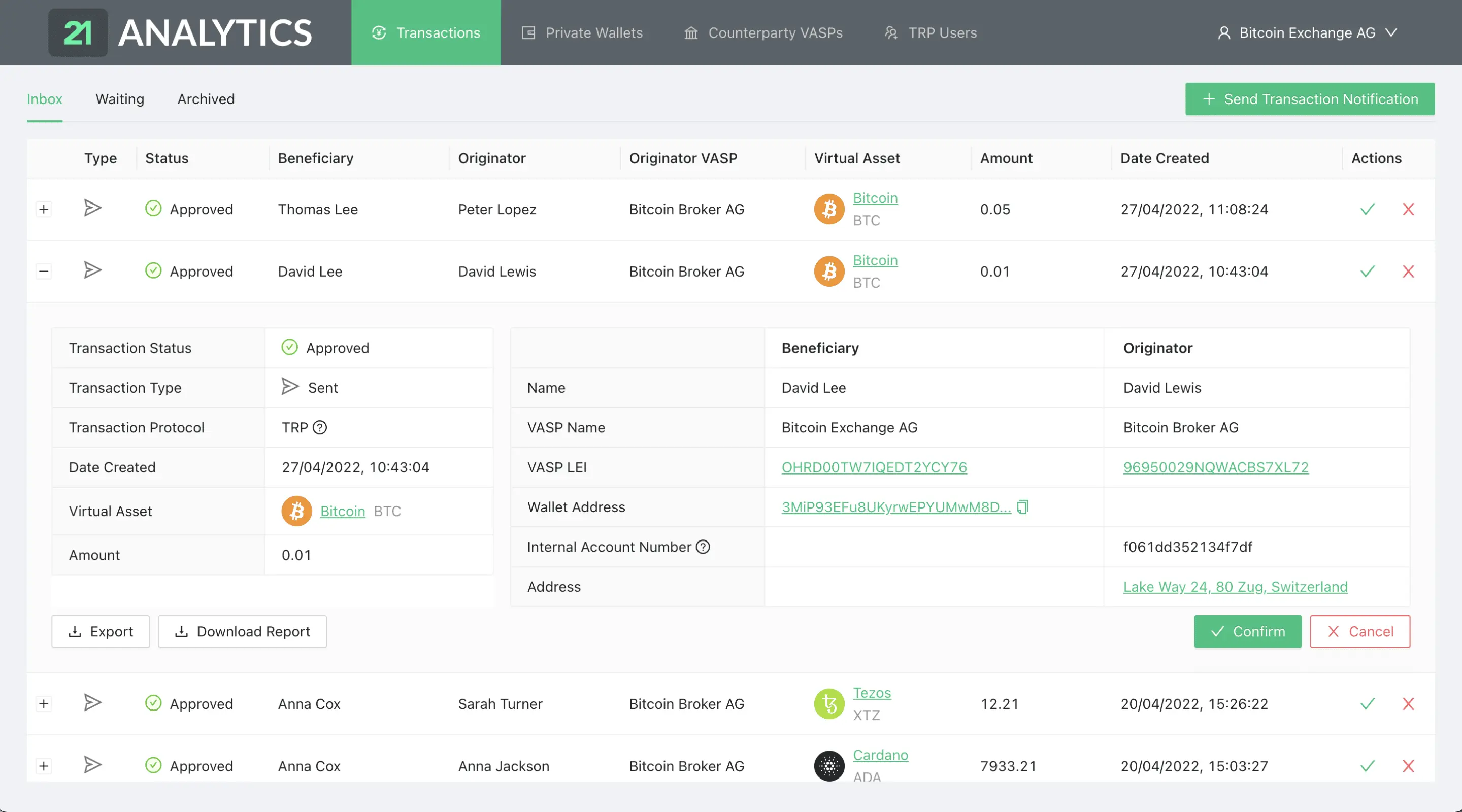 Send Transaction Notifications
Exchange FATF Travel Rule information manually (user interface) or automatically (API) to seamlessly integrate with your systems and processes. Transfers to VASPs are automatically based on your preferred way to exchange data with your counterparty.
Approve or Decline Transactions Before They Take Place
Receive transaction notifications from your counterparty, so you can analyse risks to decide if the funds should be sent. Take advantage of TRP 2.1 workflow.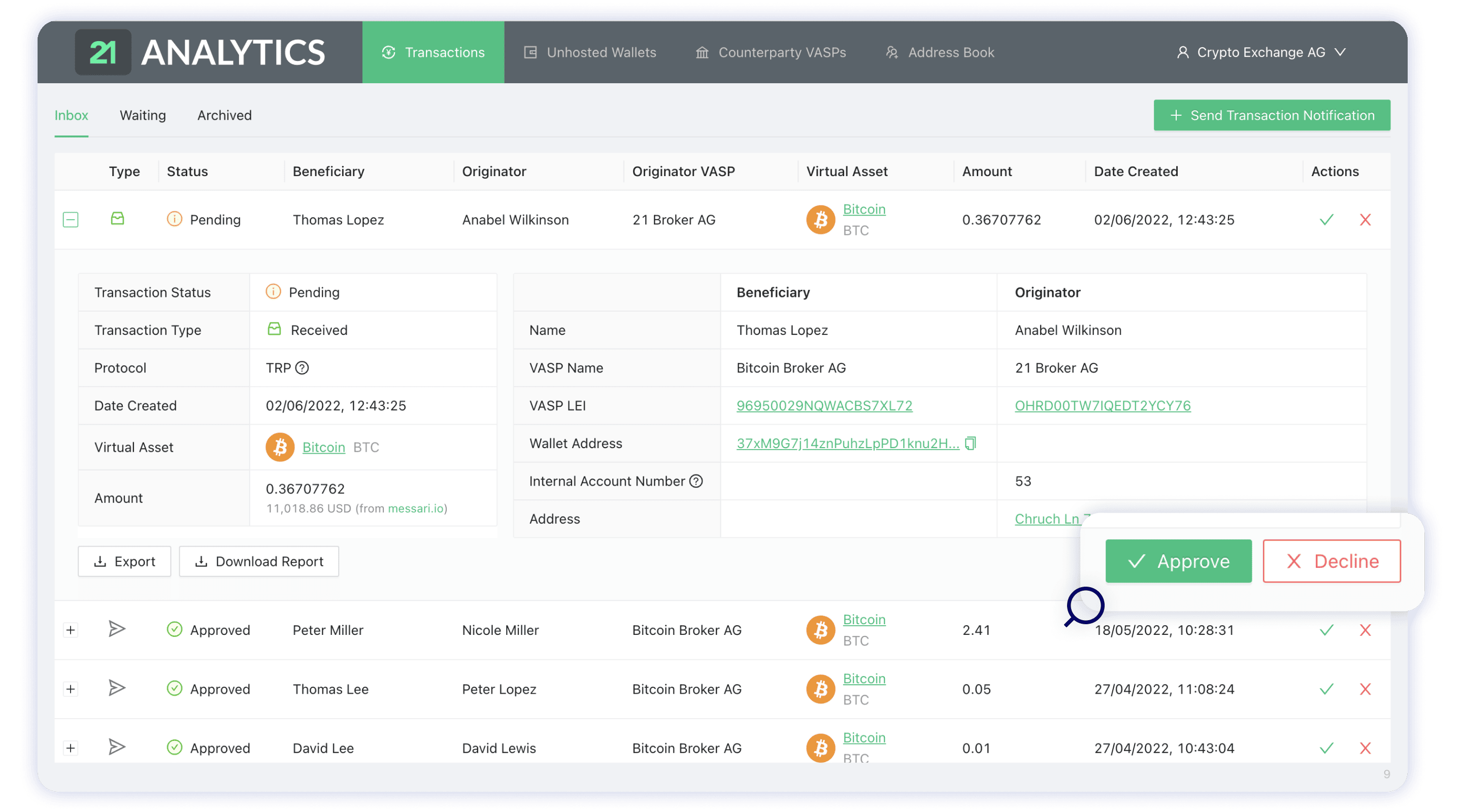 Verify Self-hosted Wallets
Request, register, and review address ownership proofs with the best user experience through AOPP to guarantee compliance when transacting with self-hosted wallets.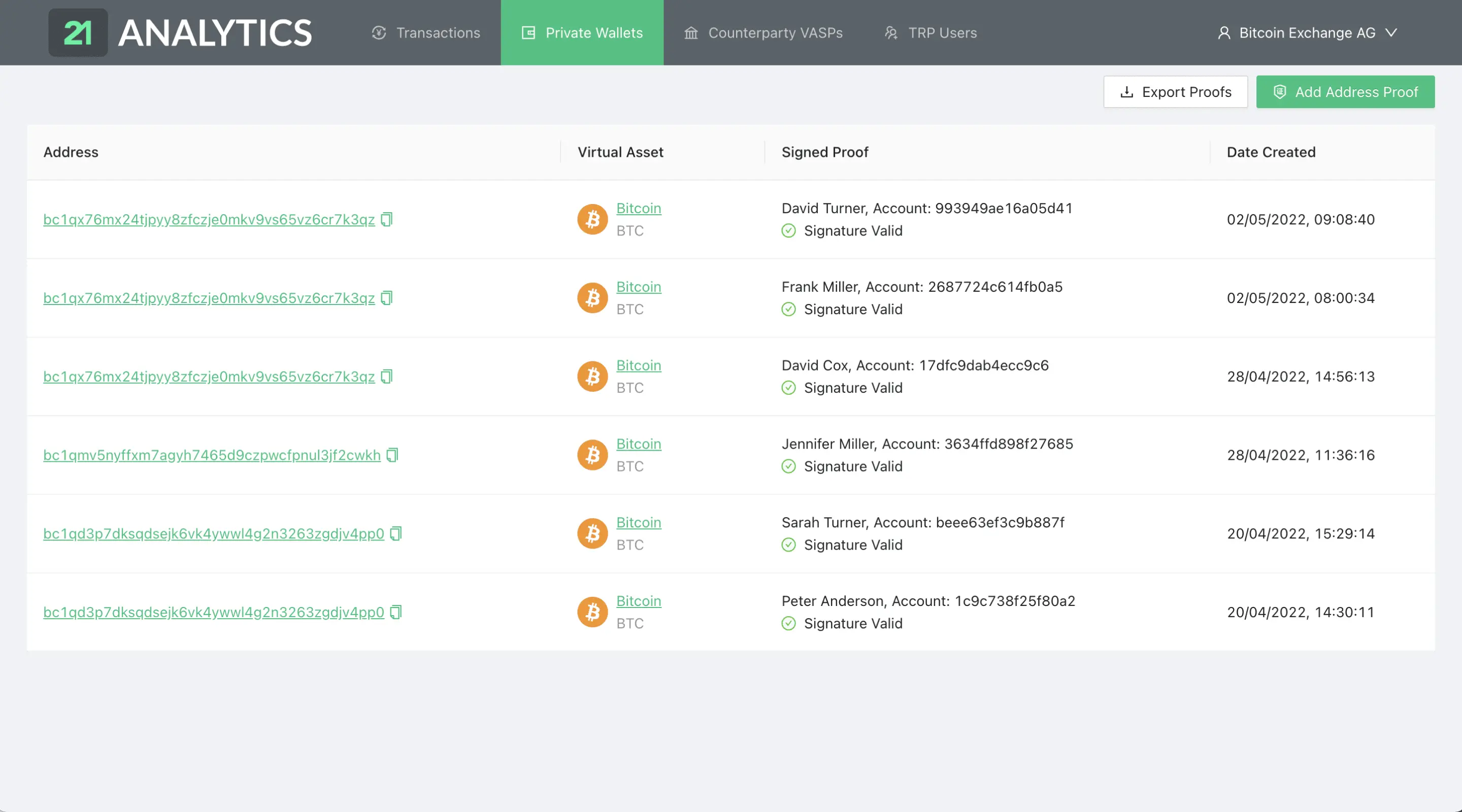 Manage Counterparty VASPs
Be in full control with whom you are transacting. Assess your counterparty risk levels and add them to your list of verified VASPs. Set a partner up once, and transact easily every time after that.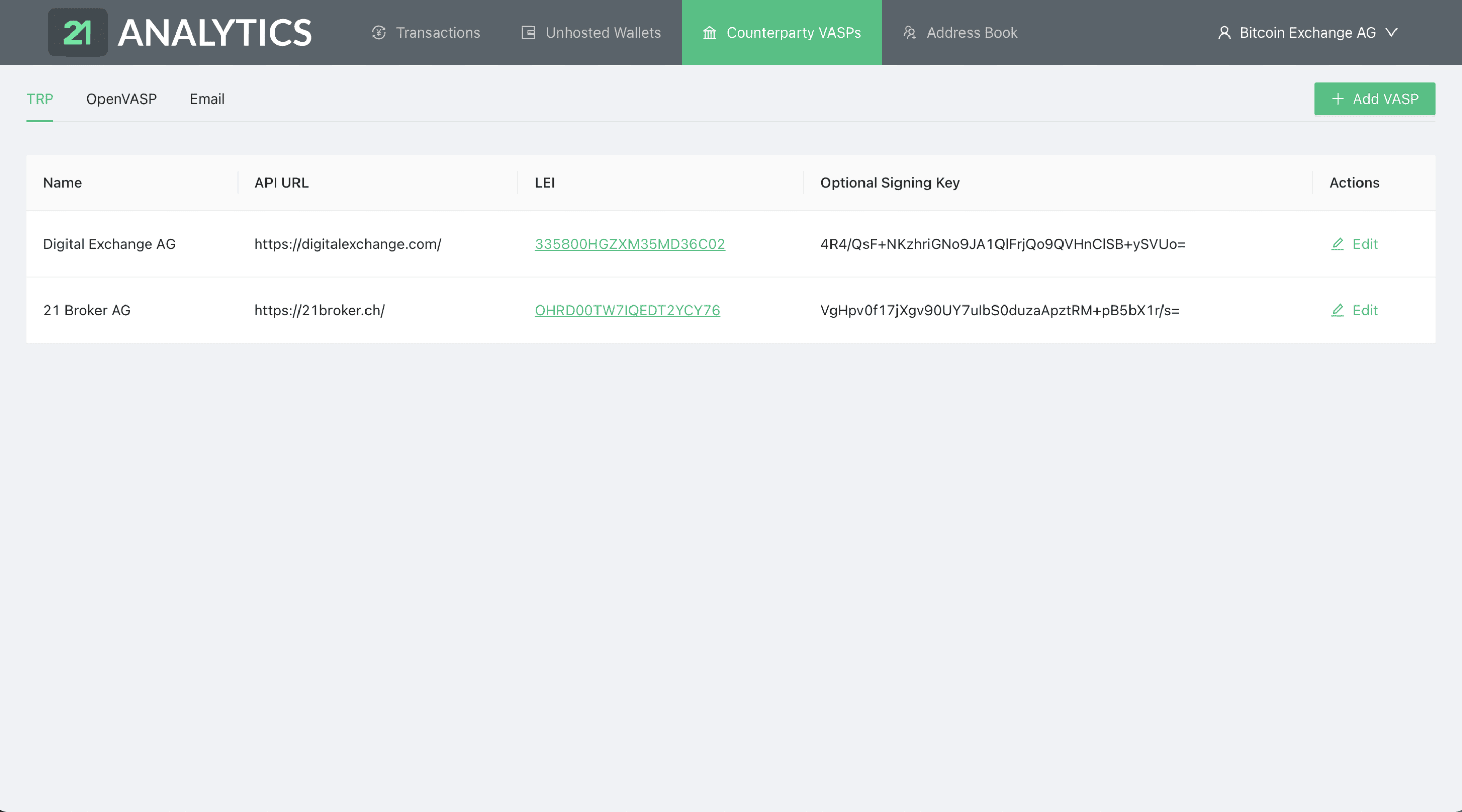 Register Transactions Manually
Keep all transaction information in one place and have a single source of truth. Quickly add data received from outside sources, and guarantee you have it stored securely.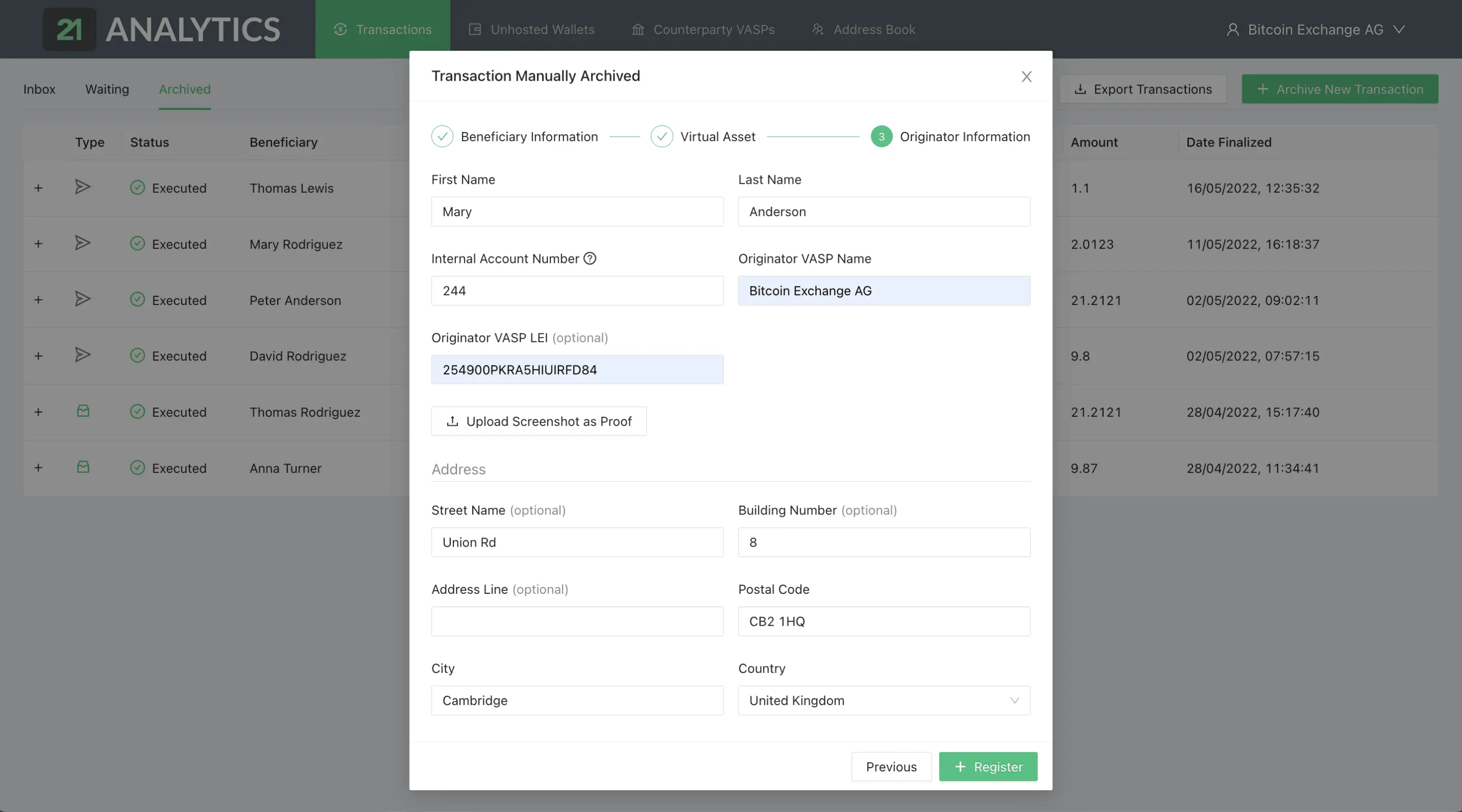 Automate Business Rules
Set rules for transactions depending on the counterparty, its jurisdiction, transfer amount, sanctions lists and more.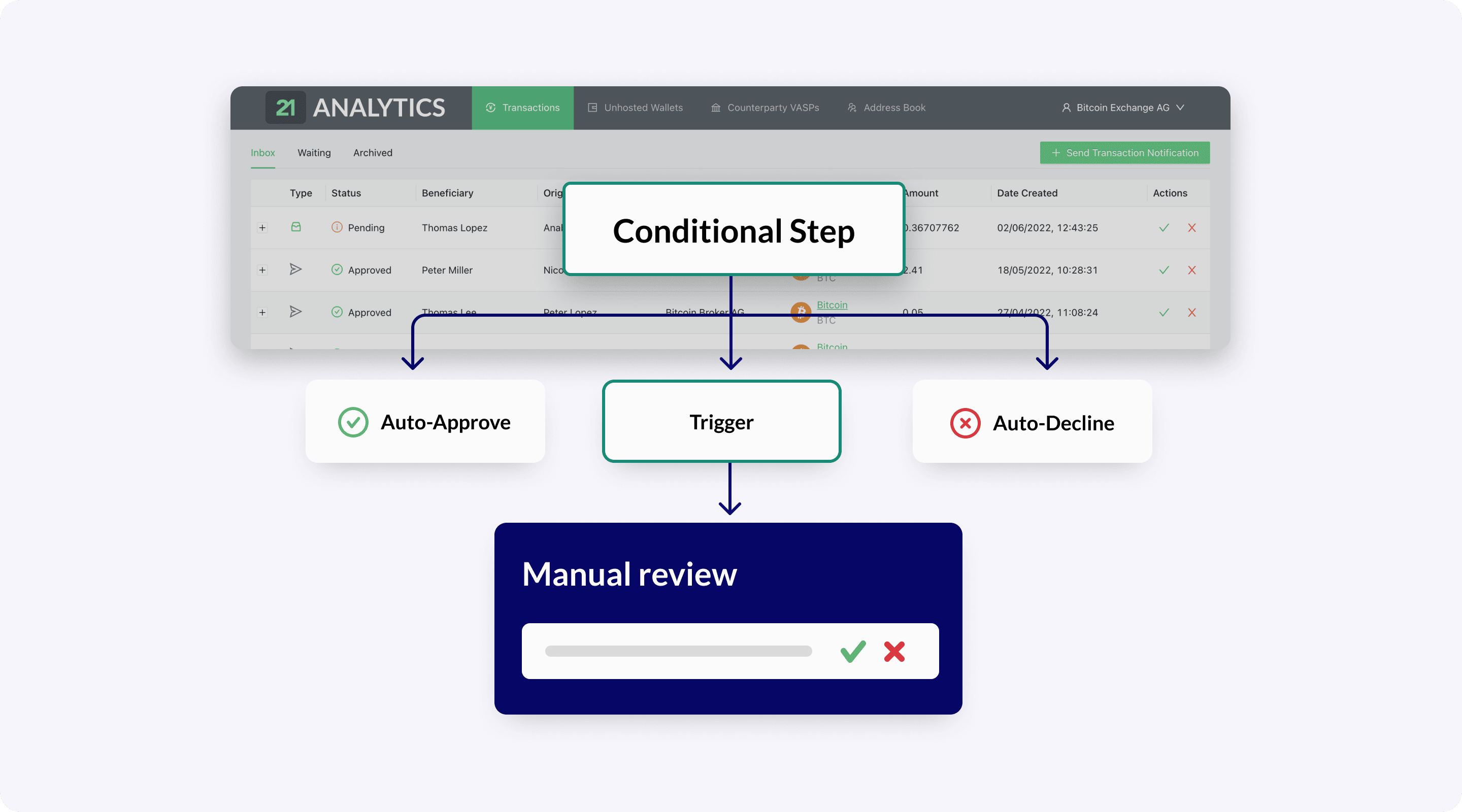 Easy Reporting
Download all relevant information for when you need to submit reports, share data internally or just store it somewhere else.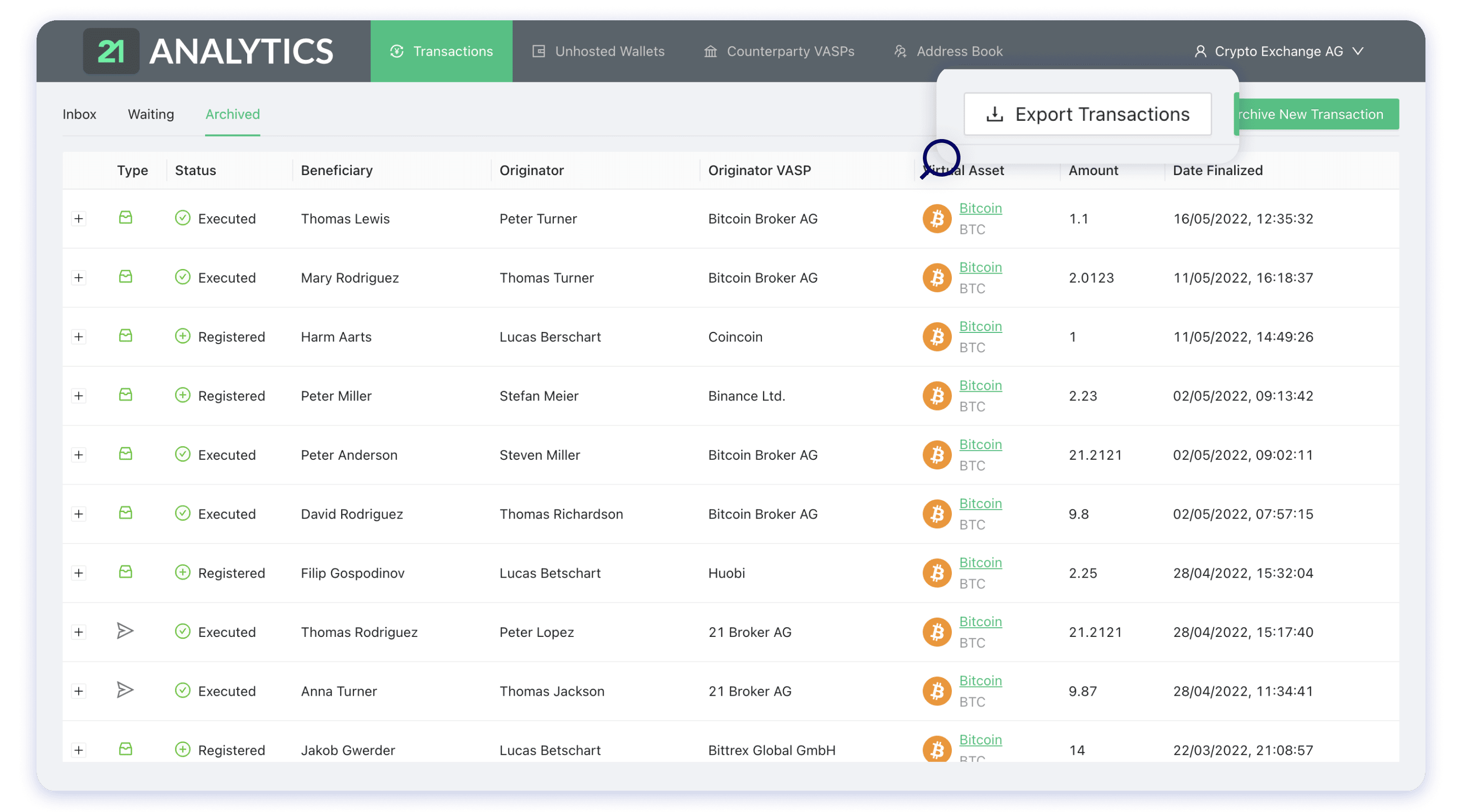 Risk Assessment
Automatically connect a risk score to a transaction to identify illicit activity. Leverage our integration of blockchain data companies.
Read More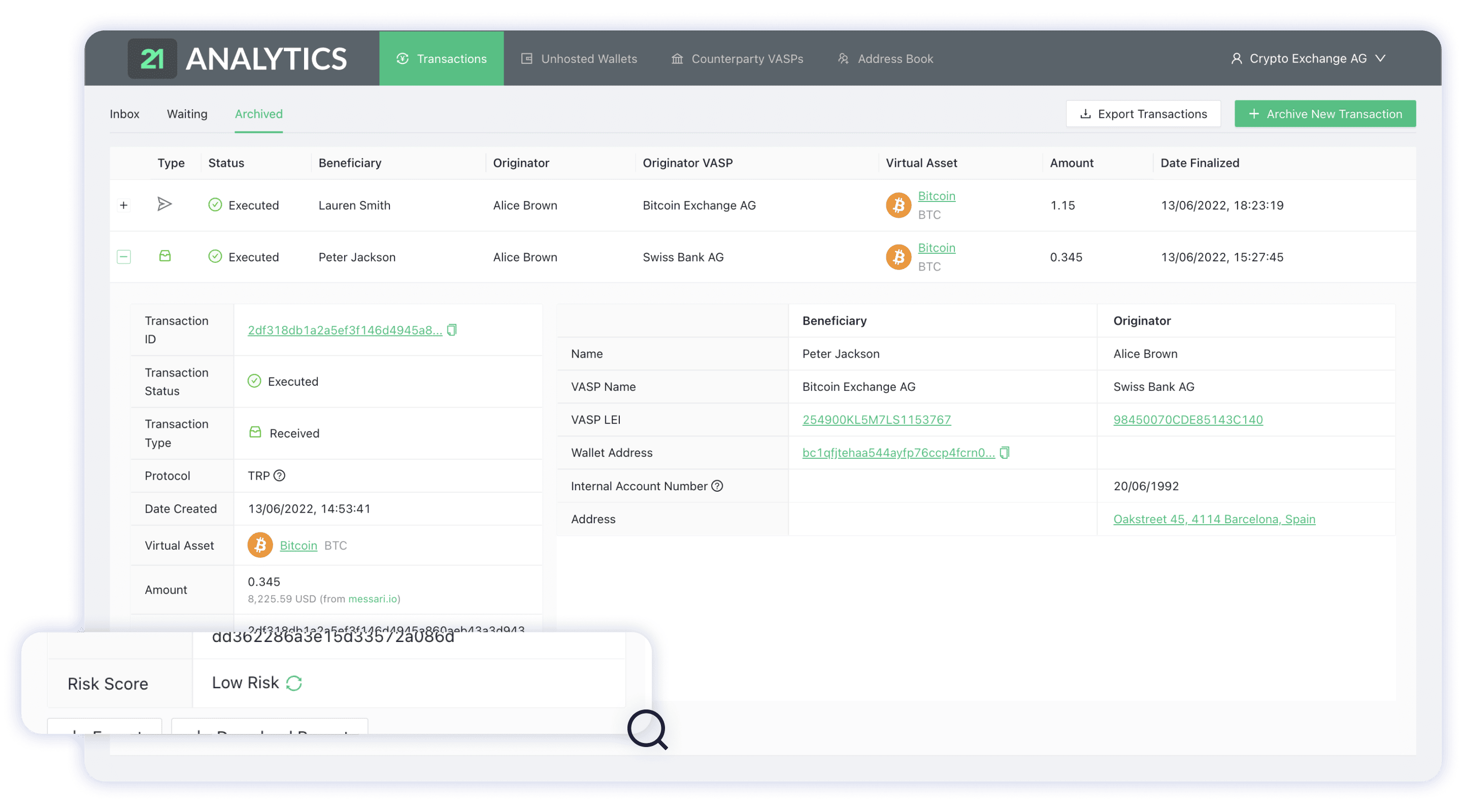 Unlimited Transactions
All of this for unlimited transactions. Our solution doesn't place artificial limits on your growth. Use it for thousands of transactions at the same fixed price.
Certified Enterprise Software
The 21 Travel Rule software solution consists of containerized microservices. The container images are available as certified Red Hat Enterprise Linux image.
Get Started
1
Book a demo to see the solution in action and clarify all your compliance or technology-related questions.
2
Request access for your IT team and start testing on your company's servers.
3
Finish integration within a day and start compliantly transacting.
Request a Demo